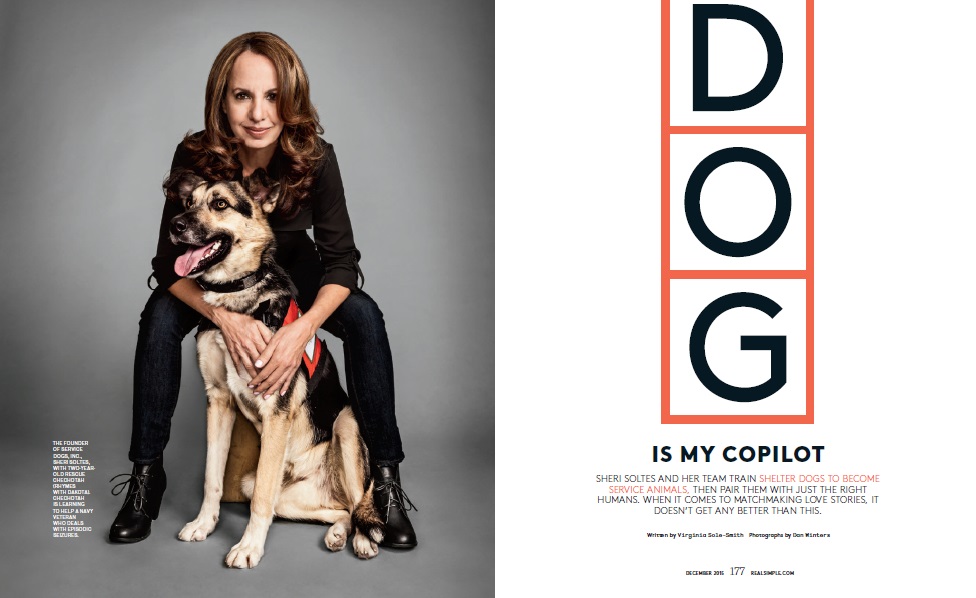 Through Sheri's leadership, Service Dogs, Inc. partners with the Texas Juvenile Justice Department in conducting PAWS, the nation's first and only juvenile prison service dog training program. PAWS teaches youth empathy, responsibility and vocational skill.
Sheri also has been instrumental in placing courthouse dogs with Victims Assistance departments of the Montgomery County District Attorneys' offices. These dogs comfort children when they are interviewed about abuse and even accompany them to court when they testify. Sheri will be speaking about the courthouse dogs program to the Texas District and County Attorneys Association conference in September 2017.
Sheri has mentored assistance dog programs around the world, including in Australia, Japan, Spain and Chile. She has been a featured speaker at many conferences and institutions in the United States, Spain and Chile.
Her articles on the legal rights of Assistance Dog users have been published by Assistance Dogs International, the International Association of Assistance Dog Partners and Leader Dogs for the Blind.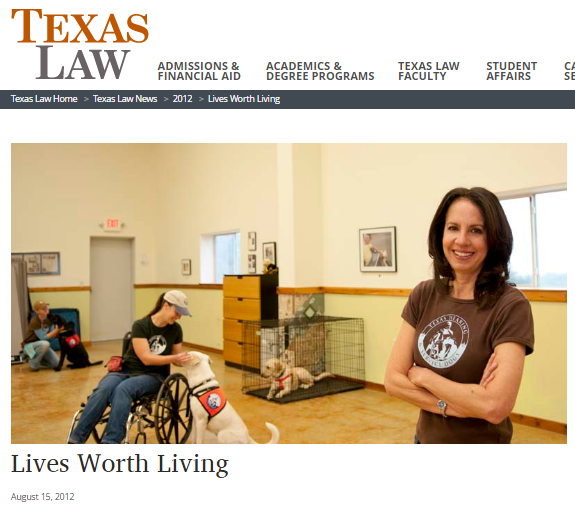 Sheri helped draft the 1995 and proposed 2017 revisions for Texas' Assistance Dog access statute. She is currently working on a mobile website with a geolocator that will tell both assistance dog users and the business community the relevant service dog access laws, protocols if there is an issue, what may be asked of the person with the dog and that includes a reporting function to compile data. It will have both a U.S. and international scope.
Sheri's other accomplishments include:
Assistance Dogs International:

ADI NA, Board of Directors, 2014 - present
ADI, Vice President and Conference Chair, 1999 - 2003

Austin Police Department – Helped create its

Search and Rescue Dog program

including donating APD's first Search and Rescue dog and providing initial training. K9 "Austin" was named "Search and Rescue Dog of the Year" by the American Kennel Club.

Read about the mission of Sheri's nonprofit in Hill Country View magazine.

Chairman's Commendation from

Austin Mayor's Committee for People with Disabilities

, 2006)
Service to Mankind award from Austin Sertoma Club, 2011
Member, City of Austin's Capital Transportation Authority's Appellate Committee for Paratransit Eligibility, 2012
Airport Service Dog Relief Area Consultant –

Assisted Texas airports

in complying with federal regulation, McAllen and Abiliene municipal airports, 2016
Speaker, Texas District and County Attorneys Association Conference, 2017 (scheduled)
TV – In addition to

countless interviews and appearances

, Sheri created:

Café Woof, FOX-TV, Austin (monthly, 2007 – 2008)
My Pet, KXAN-TV (NBC), Austin (weekly, 2012 - 2015)

In 1999, Sheri created the Mighty Texas Dog Walk as

a special event fundraiser

for Service Dogs, Inc. It has won six Guinness World Records including "Largest Dog Walk" and "Biggest Fur Ball".
Sheri created the

Awesome Accessibility Awards

, which recognizes businesses that provide outstanding services to people using assistance dogs, in 2016
Printed media:

Real Simple, national magazine, 8 page feature, Dec. 2015
Hill Country View, local magazine, cover and feature, Feb. 2017